UX/UI Design part-time Bootcamp in Barcelona Code School
Get new skills and advance in your current career or become a freelancer!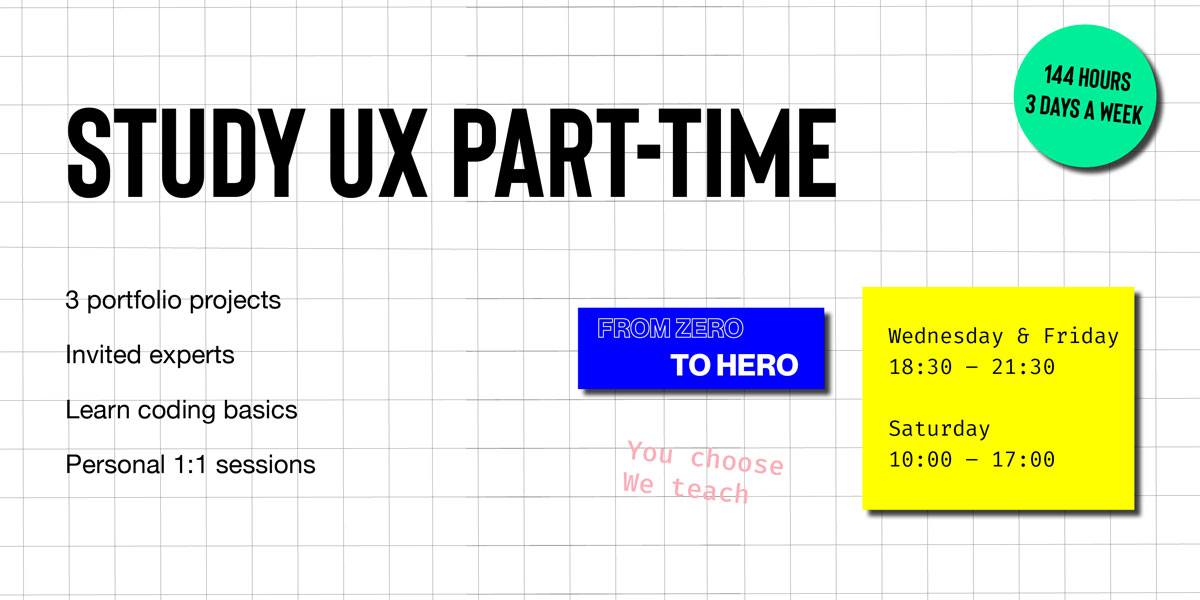 In-person part-time

hands-on training
Upgrade your skills while keeping your current job
Zero to hero in 11 weeks
Wednesday, Friday

18:30 – 21:30

, Saturday

10:00 – 17:00

One personal 1:1 session

with your mentor per week
Invited

experts

for each topic
A

certificate

of successful completion
The course is taught in English
Get the curriculum
Subscribe to our mailing list and get the curriculum now.
Overview
In this UX/UI Design course, we are going to go through all the phases of a UX Project exploring both the theoretical and the practical side of each step.
This course is perfect for:
Those who want to transition into UX/UI Design career
Visual Designers who want to understand and apply principles of Experience Design
Project Managers, Developers, Marketers, Psychologists, Communicators, Advertisers and other professionals who want to learn the processes used in the field of UX, UI and human-centred design
Entrepreneurs who want to validate their idea and learn how to create disruptive products and understand their users
Anyone who wants to upgrade themselves professionally and have a more market-relevant profile
Topics by week
Week 1: Introduction to UX Design and User-Centered Design
↓
Week 2-3: User Research – techniques, analysis, and synthesis
↓
Week 4: Project Planning and Strategy
↓
Week 6: Interaction Design Part 1 – Information Architecture and Wireframing
↓
Week 6: Interaction Design Part 2 – Prototyping
↓
Week 7: Usability – Testing planning & Methodologies
↓
Week 8-9: User Interface Design
↓
Week 10: "Extra" features of a good UX/UI designer
↓
Week 11: Final project presentation and deliveries
↓
What our students say
"The course was a lot of fun to do! Absolutely worth it if you are looking to experience and learn UI/UX design. Instead of spending too much time on theory we jumped right on getting practical. Marina Tudela is friendly and explains everything very clear. She teaches you how to really get inside the head of the user/customer. Muchissimas gracias Marina!"
"Very good UX course that helped me be sure that I want to activate in this field. I liked the overall environment and things we learnt."
The outcomes
Your instructor
Marina Tudela has been working as a digital designer for several years, the last ones focusing just on the UX and UI of the products. As a designer, she tries to focus on the balance between usability and visual harmony. She has worked at digital studios like Antiloop and London-based startups like Joivy. Nowadays Marina works as Senior UX Designer at Haufe and also at Barcelona Code School teaching UI/UX Design. You can have a look at some of her work here.
Tuition
3500€
950€ paid upon registration, the remaining is split in two payments due before course begins.
Financing
Banco Sabadell
Student loans with 0-6,5% interest rate and duration from 10 months to 8 years. Please ask your closest Sabadell branch for more info. You will need a proforma from us with the dates and cost of the course. Please contact us to request this proforma.
Access
But I don't know anything about UX...
Our course is prepared for people with no previous experience in UX Design. Previous experience with related fields such as project or product management, visual or graphic design, development and QA will help you to better understand the industry, but it's also ok if you want to start from scratch.
Our instructors will not just teach you all the methodologies but also mentor you through the process of becoming a UX designer. With small groups and best students/teachers ratio you will have a personalized approach helping you to succeed. All you need to have is a laptop and strong desire to become a UX designer.
The rest is our job.
What if I already know something about design?
That's great! Traditional Design skills (Graphic, Editorial, Digital…) are extremely useful for UX Designers. That will help you establish yourself in a higher seniority level once you finish the Bootcamp. We have mindbending challenges and more complex concepts to consolidate, strengthen and improve further your skills!
Why Barcelona Code School?
Cutting edge curriculum tailored to job market and companies' needs
Best students/mentors ratio
Instructors, who know how to teach
Fast track from the beginner to a proficient level
Premium location – new cozy office with a terrace in the downtown of Barcelona away from the touristic crowds
FAQ
What computer would I need?

You will need an Apple computer since some of the software only works in OSX.
What is the language of this course?

English.
Do I have to speak Spanish?

For the course you do not need Spanish. Everybody at our school speak English. To feel comfortable in Barcelona Spanish would help but nowadays in most of the places local people do speak English.
Who is this course for?

Beginners. If you don't know what UX design is – this course is for you. If you know what Lean UX is – even better. If you can explain difference between a wireframe and a prototype you will be doing just fine.
What qualification I will get from this course?

If completed successfully you will become a UX Designer. Meaning you will know practically how to design awesome product. You will have the skills to start working as an entry UX/UI Designer position.
How good would a typical graduate be after completing the course?

You will learn the skills to begin as a UX/UI Desinger, will know how to design, prototype, test and deliver components or full products. You will have a full toolbox and a solid foundation to improve your expertise.
Is there a pre-course?

Yes. We send you materials to study to come prepared!
How does your price compare to other schools?

It's safe to say that our price is within lower competitive range. We strive to provide the personalized approach thanks to smaller group size and attract highly qualified instructors motivated to share their expertise with students. You will love it, we guarantee!
Are there any accommodation options for the foreign students?

Make sure to check Beroomers, Uniplaces, Spotahome and Barcelona home.

We can also help you with a personalized search. As a rule of thumb the closer to our school the better the area is. Just send us couple of links of the properties you've chosen if you need our advice on that.
Inquiry about the course